Problem
While organizations in education (higher ed and K-12) face many of the same challenges that traditional corporations do, they have unique needs which must be handled by the IAM platform. These challenges include:
Bulk provisioning at the start of every school year or semester, and once again at graduation. During graduation some institutions may de-provision a user while others may change their status to "alumni" where they have access to a limited set of resources.
The IAM system will need to be able to support a variety of users such as staff, students, alumni, part-time staff, grad students, and so forth. In some cases, we also need to be able to support staff that are also students.
In some cases, the IAM system must also support an external population such as prospective students who may be visiting the campus and need temporary access. These users may later become enrolled students.
In K-12, there may also exist a need to model familial relationships and grant access to the student's parents.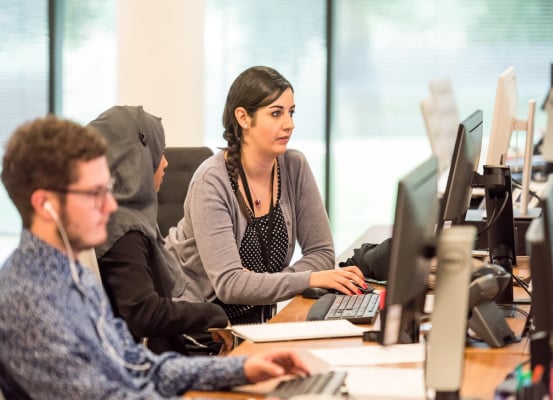 The above cases are just a small example of unique challenges which organizations in education face.
Solution Overview
OpenIAM provides a complete solution which can be used to address both traditional IAM requirements as well as the unique demands which exist in education.
Improve user onboarding and offboarding
OpenIAM provides a scalable user provisioning and deprovisioning solution which can be integrated with both the system of record and the variety of on-premises and cloud applications which may be in use. Combined with the business rules engine and RBAC model, we can ensure that users only have the right level of access at the right time.
Support for multiple user personas
OpenIAM provides a complete view of a user's access across applications as a user can have more than one persona. This allows OpenIAM to accurately model the user primary profile and secondary profile allowing a person to be represented as a student and staff at the same time.
Improved user experience
OpenIAM provides features for improved end user experience. These include:
Passwordless authentication combined with AI-based adaptive authentication
Single sign-on to applications which the user is allowed to use. Alternatively, OpenIAM can plug into your existing IdP such as Azure.
Feature rich self-service portal where users can manage their own profiles and request access to systems which they may not have access to.
Lower service desk costs
Significantly lower operational overhead by:
Automating the provisioning of access
Virtually eliminate helpdesk calls related to access and password issues
Familial relationships
In K-12 schools it may be necessary to represent not just the student but a parent and the student's siblings. OpenIAM allows the modeling of these relationships to gain a broader view of access, while simplifying the effort required for both teachers and staff while maintaining each student's privacy.
Let's connect
Managing identity can be complex. Let OpenIAM simplify how you manage all of your identities from a converged modern platform hosted on-premises or in the cloud.
For 15 years, OpenIAM has been helping mid to large enterprises globally improve security and end user satisfaction while lowering operational costs.